Profile

We live as we dream--alone....
To be trusted is a greater compliment than to be loved
Free Account
Created on 2017-04-07 23:47:29 (#2952710), last updated 2017-04-09 (23 weeks ago)
3 comments received, 6 comments posted
16 Journal Entries, 1 Tag, 0 Memories, 5 Icons

About

Mini Bio
Facts about Amy :-
- Likes to sleep, especially if her fav pillow is involved, she can practically sleep anytime and anywhere without a concern in the world
- Can survive on fries alone if she ever goes to any fast food place
- Can't never resist an ice cream booth if she haven't had one yet that day
- All day and all night she needs Lucifer. She can only abandoned it if only there's a VERY good reason for it
- Likes theme parks especially thrill rides. It's a must that she at least try every ride once no matter how boring is it.
- Always having toothache for eating waaaaaay too much chocolate and refuse to stop this habit coz for her that's why dentures are created.
- Rather spend money on computers and anime than clothes.
- Doesn't really give a damn about what other people think about her because she surely doesn't give a damn about other people unless you're someone close to her.
- She's likely wouldn't get in your way unless your way and hers intertwine somehow.
- If you're one of someone that she cares, she'll listen to you and you can be sure that she'll give you a 101% her best to help you out.....maybe.
- Likes her space... a lot, not that she mind other people but sometimes she just rather like to be alone.
- She doesnt like vegetables, fruits, beef and spicy food. She will try it on the urge of others but just don't expect that she didn't spit it out back.
- Likes to learn new language although she is very bad at memorizing stuff.
- Tend to panic a lot but when she stops panicking she can be very........ (I'll leave that to your imagination)
But the most important thing about Amy is.... she is lazy as hell and have this low tolerance on troublesome stuff. Yup, Shikamaru and me are soulmates alright.

R.I.P Original Tenimyu Cast. Luv Forever

BackStair Boys are LOVE

Karupin is love

Meganes are Power Rangers love!

Seigaku is love

Friendship is love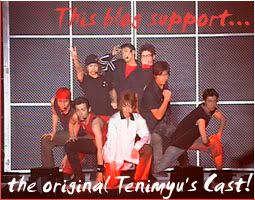 This blog support the original Tenimyu's Cast!

Connect

People
[View Entries]

Communities
[View entries]

Member Of (15):
amnos_n0_asa
,
arashi_off
,
arashi_transcripts
,
arashi_yuuki
,
lightofangels
,
menimienaimono
,
newshfan
,
nyoop
,
otsukarepanda
,
piccasho
,
storm_freaks
,
takeoff_subs
,
tamagoess
,
transitions101
,
yumenohashi

Subscriptions (19):
amnos_n0_asa
,
arashi_off
,
arashi_transcripts
,
arashi_yuuki
,
doramatique
,
dw_maintenance
,
dw_news
,
je_drama
,
lightofangels
,
menimienaimono
,
newshfan
,
nyoop
,
otsukarepanda
,
piccasho
,
storm_freaks
,
takeoff_subs
,
tamagoess
,
transitions101
,
yumenohashi

Administrator Of (0)

Feeds
[View Entries]

Subscriptions (0)

Linking
To link to this user, copy this code:
On Dreamwidth:
Elsewhere: